Our values
These qualities permeate all aspects of our work–and guide us on a daily basis.
Critical thinking
Thinking outside the box is a quality we highly value. Full stop.
Craftsmanship
We value creativity and innovation stemming from knowledge and years of practical experience.
Constructive discussion
We are open to different ideas and points of view and highly value respectful discussion.
Meet our team
At QuantUp, we tend to work with people who are:
Well-educated

Our team members boast MScs, PhDs, and a postdoc degree in mathematics, computer science, and bioinformatics–and we bring this wealth of knowledge to all our projects.
Experienced

Statistically speaking, every other member of our team has over 20 years of professional experience. And the other half is getting there, too!
Engaged

We live and breathe advanced data analysis, so we always give 100% of our attention to our projects–at the end of the day, it's our passion.
Artur Suchwałko, PhD
Founder & CTO
With over 20 years of professional experience in advanced analytics and a PhD in mathematics, Artur has led over 100 projects for companies at different stages of development–from startups to global corporations. Several scientific papers and thousands of hours of commercial training later, Artur still has an undying enthusiasm for sharing his expertise in business analytics, data science, and ML. Personally, an avid fan of open-source software and the R language, Artur published a book on using the latter for forecasting.
Rafał Pisz
CEO
For over two decades now, Rafał has acted as a managing director, founder, CTO, shareholder, and a consultant at a host of IT companies, including DATAX, AXIT, and SoftGroup Polska. Holding two master's degrees–in Computer Science and Finance–Rafał successfully led the growth of DATAX into an international entity in Europe and Asia. He was also the man behind AXIT's R&D centre, which released the first SaaS supply chain management solution. Rafał has also coordinated the European Commission's FP7 and Horizon 2020 R&D projects.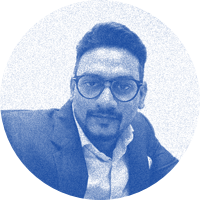 Thiagarajan Tinakarun
CEO, QuantUp Asia
Originally hailing from Malaysia, Thiaga is a graduate of Northumbria University, and an RF engineer-turned-entrepreneur. As CEO of telco-services company Privatel, Thiaga led its growth efforts, increasing revenue tenfold and reaching 40% of market share within the first few years, as well as earning the reputation as a key RF player in Malaysia. Privatel has expanded to Singapore and is planning to further increase its footprint in the ASEAN countries. Throughout his career, Thiaga has won several industry accolades, including the Perdana Young Indian Entrepreneur Award 2016.
Andrzej Dąbrowski, PhD
Andrzej Dąbrowski, PhD
With a career spanning almost five decades and a PhD in Mathematics, Andrzej brings a wealth of professional knowledge and international experience in teaching theory and practical applications of statistics and data analytics. Dedicated to promoting mathematics, Andrzej has written and edited a range of related books and articles, delivered speeches at international conferences, collaborated with industry magazines, such as DELTA, and is a member of several societies, including The International Biometrics Association. He also authored all the statistics and mathematics entries in the Great PWN Encyclopedia–Poland's most significant encyclopedia.
read more
Dr. Andreas Eisenblätter
Dr. Andreas Eisenblätter
With several degrees–Applied Computer Engineering from Berufsakademie Stuttgart, Master's in Mathematics from the University of Heidelberg, a PhD in Mathematics from Berlin University of Technology, Andreas has focused his academic research on applications of mathematical optimisation to network design and optimisation–including radio systems. For almost 20 years, he has been the managing director of atesio, a Berlin-based company, specialising in optimising telecommunication networks. Outside of office hours, Andreas enjoys running and mountain hiking.
read more
Przemysław Stangierski
Przemysław Stangierski
A graduate of the University of Lodz and The City University, London, Przemyslaw is a business systems consultant, who has served as the Head of Practice at Arthur Andersen Poland and the High Tech Practice Head for Eastern Europe at A.T. Kearney. Throughout his career, Przemysław has also founded several startups, acted as a business angel, and been a member of supervisory boards. After work, Przemysław plays the guitar and composes film and rock music.
read more
Roman Jędrkowiak
Roman Jędrkowiak
A founder and CEO of boutique agency ADHD Warsaw, Roman is the epitome of a marketing industry veteran. With 14 Effie Awards and the title of CMO of the Year 2008 under his belt, he has directed marketing team operations at brands including ING Bank and Lucas Bank, and managed projects for clients, such as HBO, BNP Paribas, Infor, Hoop, Play, and Ultimo. An avid rower, Roman is a three-times Champion Rower in Poland.
read more